Autumn in Ireland is when the days are shorter, darker, and cooler. While it's the perfect excuse to get cosy at home with a hot drink in hand, it's also a lovely time to get out into some fresh, chill air and see the beauty of Emerald Isle. 
During autumn, many places in Ireland are covered in blankets of golden and amber leaves, setting the ideal backdrop for your outdoor adventure. Kildare, a small idyllic county renowned for picturesque landscapes and horse racing, is one of them. From lush forest parks to archaeological sites, Kildare boasts some of the most scenic routes in Ireland, 
Looking for a short nature-filled stroll this weekend? How about a big adventure through the woods? Grab your autumn hats and scarves and explore these postcard-worthy destinations in Kildare. 
1. Take a scenic hike at Donadea Forest Park
While it looks beautiful all year round, there's something about the Donadea Forest Park's lush foliage that makes it an autumn lover's dream. On top of that, there are plenty of interesting sites to see in this National Heritage Area, including the remains of the castle and walled gardens, ancient relics, and other archaeological sites. 
With three separate walking trails ranging from 1km to 6km, there's something to suit all ages and walking levels. For walks that take no more than half an hour, you may take a short afternoon stroll following the Lake Walks which loops around a scenic lake filled with waterlilies. You may also take the 2km Nature Trail and feast your eyes on some of the dramatic architecture of the estate. 
If you're an experienced walker, the 6km Aylmer Walk that brings people all around the vast park may be for you. 
Make it into a fun family day out by having a picnic at the park's picnic grounds. Donadea Forest Park is located just over 30 minutes outside of Kildare Town. If your hotel in Kildare is situated in Naas, you'll reach the forest in just a 25-minute drive. 
2. Travel back in time @ Kildare Monastic Trail
Are you a fan of archaeological sites? The Kildare Monastic Trail, which is the heart of Ireland's Christianity origins, is one place you shouldn't miss. 
The Kildare Monastic Trail combines both the best of Ireland's nature and unique ancient history. The lengthy trail stretches from Castledermot to Oughterard near Straffan, leading you to the charming ruins of time-worn monasteries, relic round towers, and ancient high crosses. Here are the sites you'll see along the way: 
Castledermot Monastery and Friary

Old Kilkullen

Clane (town in Kildare)

St. Brigid's Cathedral

Oughterard Round Tower
If you want to delve a little deeper into the ancient monastic history of Ireland, you may download a free audio guide. 
3. Discover the picturesque riverside trail along The Barrow Way
The Barrow Way is one of Ireland's most historical rivers. Aside from relaxing boat trips, you can also enjoy an autumnal stroll or a family day out along the 200-year-old towpath. 
The scenic riverside trail is perfect for hikers, bikers, and history buffs. The trail takes you through a few fascinating historical locations, towns, and villages in Kildare. You may take a self-guided tour with the help of an engaging 2-hour audio guide. The guide is filled with tales and information on Leinster's ancient Kings, the Devil's eyebrow, and more. 
4. Or have an easy walk around Athy Slí 
Looking for a short yet beautiful river walk? The 2.6km Athy Slí might suit your fancy. The walk starts at the 1857 courthouse by the River Barrow. The circular route runs side-by-side the river, up the Barrow Path, passing St Michael's Church of Ireland, under the Horse Bridge and Railway Bridge, and along the Canal Path. 
5. Explore the charming Killinthomas Woods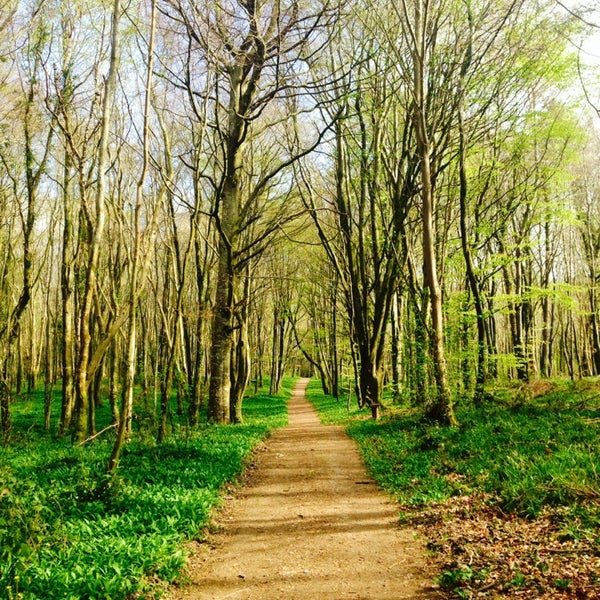 Killinthomas Woods is one of Kildare's relatively undiscovered gems. Just a five-minute drive from Rathangan Village and you'll discover the enchanting woodlands, which look like something straight from a fairytale. 
Walking a 10km trail might not sound easy but the picturesque landscape of the woodlands will surely make your trip a breeze. Plus, there are signposts dotted all over the trails so you won't get lost. 
Time your trip during spring and you'll see a wonderful forest carpet of vivid bluebells. For now, just admire how Killinthomas Woods embrace autumn and showcase autumnal hues.
Author Bio: Carmina Natividad is a foodie and travel blogger who hates being locked up at home. Her fondness for travel, food, and cultural appreciation makes it easy for her to write inspiring pieces of content about them. To know more about hotels and travel blogs, you may visit Osprey Hotel.