Fashion has no boundaries. It is exceptional and unlimited. It makes us look stylish, fashionable, elegant, glamorous and dignified. But have you ever imagined that this same fashion can also make you look spooky and dramatic? Yes, it is possible! Fashion has different categories and subcategories. One such category is gothic fashion that gives you a dramatic, expressive, spooky, bold and ghastly look. This fashion has a very interesting history and has evolved a lot over the decades. Women's gothic clothing are of different types and are available in different designs and styles. In general, gothic outfits are homogenous, with little or no difference.
In this article we shall glance at the brief history of gothic fashion and at the same time we shall look at the difference between the ancient goth fashion and the modern goth fashion. There are different online stores that provide you with a variety of gothic outfits and accessories. Jordash Clothing is one of the online stores in the UK that provides you with women's gothic clothing, wholesale ethnic clothing, wholesale vintage clothing, gothic accessories and so on.
In order to understand gothic fashion, we need to first understand the gothic subculture that has given rise to this fashion. So, at first we shall be looking at the gothic subculture, then we shall move towards gothic fashion.
Gothic Subculture
Goth subculture has drawn its inspiration from gothic architecture of the Middle Ages, gothic literature and gothic art and style. The origin of gothic architecture dates back to the Middle Ages (between 13th to 16th centuries). The buildings during this period had captivating and aesthetic designs. The buildings had tall windows, spires and pointed arches that gave a spooky and mysterious vibes to these buildings. These buildings from the Middle Ages still exist today. Generally the churches and cathedrals are built in the fashion of gothic architecture.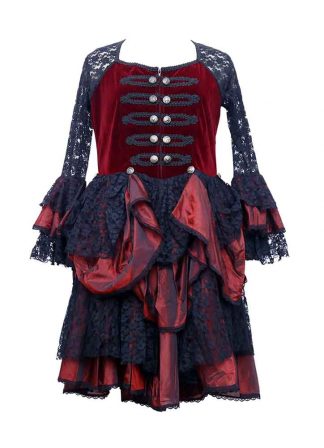 Getting inspiration from these gothic buildings, writers during the 1700's started writing novels and stories consisting of ghostly scenes and the settings would include all these spooky buildings. Generally these texts were a combination of dark romanticism and horror. This gave rise to a new genre of literature called gothic fiction. 'The Castle of Otranto' by Horace Walpole is one of the most famous gothic novels of that era.
But the gothic subculture became widely popular during the late 1970's and the early 1980's with the rise of punk rock bands. The main concept of these bands was to give messages that depict loneliness and sadness, which further gave support and joy to the audience. The vocals were expressive, passionate and dramatic. The music had supernatural elements; it was emotional, soulful and nihilistic. Goth fashion has drawn its inspiration from these bands of the '70's and '80's.
Goth Fashion
The origin of goth fashion dates back to the early 1980's. It is a combination of Victorian romanticism and the bold, dramatic, rebellious and dark aesthetics of punk rock bands. From Victorian romanticism, it has derived long and elegant dresses, pale skin and corsets that are tight-laced. Women's gothic clothing varies in length, style and design. From punk rock bands, it has derived bold and dark makeup, such as bold and dark lips and kohled eyes, leather jackets and spiky and occult jewelleries.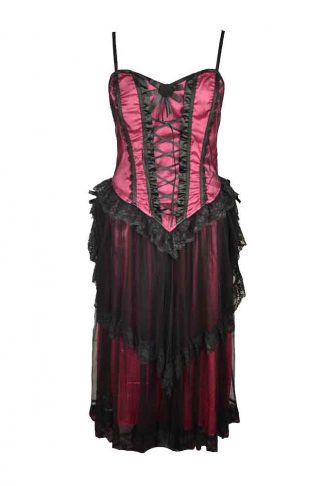 Gothic Outfits, Makeup And Accessories
Dark and bold colours are the statements of goth fashion, whether it is an outfit, jewellery or makeup. It is mostly black in colour. But other bold colours such as blood red, purple, burgundy, violet and so on are also used. The clothing generally includes bold and dark coloured dresses, long robes, fishnets, layered skirts, leather jackets that is DIY'ed, miniskirts and so on. The fabrics of these outfits are mostly silk, velvet, satin, nets and laces. The shoes generally include, high heels, unisex boots, military boots, new rocks, Doc Marten and so on. The lips are always dark and bold, eyes are kohled and dramatic, nails are painted either in black or in burgundy colour and the skin is pale in colour. Other gothic accessories include, occult jewelleries, body piercings, tattoos, hats and crowns, buckles, chains, spiked chokers, belts and so on.
Difference Between Ancient Gothic Style And Modern Gothic Style
The ancient gothic fashion was elegant, royal and sophisticated. But it was very uncomfortable. The women's gothic dresses used to include outfits that were body hugging and extremely tight. It was done to get an hourglass figure, as these tight outfits would accentuate the curves. The lower part of the garments was long, flowy and exaggerated. Men would wear shirts having laces and ruffles and trousers. The women would either tie their hair into a bun or let it loose; men on the other hand would have bob hair that was bleached. The shoes were either black or in dark colours and were either flats or high-heeled.
Modern gothic fashion is simple and minimal. It makes you feel comfortable. The makeup is also minimal and the accessories are also simple and minimal. Tattooing and body piercing are given more importance. Modern women's gothic clothing includes miniskirts, baggy pants, slip dresses, leather jackets and so on. The hair is mostly coloured in bold and vibrant colours. So modern gothic fashion is bold and dramatic, but is simple and minimal at the same time.